Shenandoah grew rapidly with the influx of skilled miners and laborers to work the surrounding coal fields. Situated in the Middle Western coal field, Shenandoah had the richest deposit of Anthracite of all the known fields. The Mammoth vein, the largest known anthracite coal vein, runs directly under the town. Coal brought thousands of immigrants to Shenandoah. First came the English mine owners and bosses, then the Welsh skilled miners. These were quickly followed by the Germans and the Irish. By the early 1870's, the Irish were the predominant immigrants to come to Shenandoah. Beginning in the late1870's, immigration into Shenandoah shifted from the Western European countries to the Eastern European countries, primarily Lithuania, Poland, the Ukraine and Slovakia. As each new wave of immigrants arrived in Shenandoah, they set about to establish their own church with services in their native language and eventually to establish parochial schools where their children could be taught both English and their own language and customs. In the 1930's Shenandoah boasted 22 nationalities, 22 churches and a large synagogue.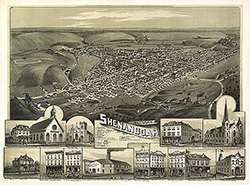 Although coal was the single most important industry in Shenandoah, a number of secondary industries and businesses helped support the economy. At first, these were related to the coal industry. Railroads were required to move the coal to New York and Philadelphia. Shenandoah was the only town in Pennsylvania to have depots for the three major railroad companies. In the 1920's, the garment industry began to develop in the area. At its peak, there were approximately 15 large garment factories operating in Shenandoah at one time. One out of every two households had a woman in the ILGWU. This was particularly true in the early 1950's when the mines were closing one after the other. The garment industry sustained many families.
Years of lost jobs, out migration and a sense of defeat have plagued the town. Today, Shenandoah is on the rebound and things are starting to turn the corner on economic development. People are returning to the region, some in retirement and many just seeking a good place to raise their families. Houses are being restored, new businesses are opening and Shenandoah is fast becoming the Ethnic Food Capital of Pennsylvania, with Mrs. T's Pierogies, Lee's Oriental Foods, Kowalonek's Kielbasy Shop, Lucky's and Capitol's Kielbasy and all the church festivals with their ethnic dishes.